Long time no see ;)
I was tagged by Astraea Nevermore on Tumblr to do the 'getting to know' meme, so since this blog has been quieter than a morgue of late (not for much longer, though!) I figured I'd post this one over here.
Behind the cut with you!
– Name: Valois Athanase Fulcanelli.
– Are you single? No, I am very contentedly married to Gunther Goth.
– Are you happy? Extremely so, both in this present moment and in general.
– Are you angry? It takes a great deal to anger me. Someone hurting or upsetting Gunther is possibly the only thing that would do it.
– Are your parents still married? They are both long dead. And even before they died, no they were not married. I was born—as was spoken of in older times—on the wrong side of the sheets.
NINE FACTS
– Birth Place: Oh, Dieu, the place is long gone. It was a tiny village in France, and it lies now in ruins. I grew up in Champs les Sims, though.
– Hair Color: Red.
– Eye Color: Equally red.
– Birthday: … I am not sure that I recall the exact date, I'm afraid. It was autumn in the Veil, that much I do know. Elsanine will know the date, but I tend to forget it quite frequently. Unsurprising, since it was over a thousand years ago. Birthdays have long ceased to mean very much to me.
– Mood: At this moment? Quite content.
– Gender: Male.
– Summer or winter: I love both equally. Summer possibly has the slightest edge, because Gunther adores the sun. He gets quite a beautiful tan and it lightens his hair to a beautiful coppery tone. And it makes him smile. Yes, I think summer has the edge.
– Morning or afternoon: Early morning, especially in spring when the sun has not yet crested the horizon, but the birds are aware of it and are heralding its arrival in full throat.
EIGHT THINGS ABOUT YOUR LOVE LIFE
– Are you in love? Oh, very much so.
– Do you believe in love at first sight? I do, and have experienced it one or two times myself.
– Who ended your last relationship? He did.
– Have you ever broken someone's heart? Several of them, apparently.
– Are you afraid of commitments? Not at all, but I do have to be sure I am with the right person before I commit. My kind of committal is slightly… more intense than others'.
– Have you hugged someone within the last week? Of course. Gunther, Mortimer, Esther, and even Natalie. We had a small dinner party and invited them all. I would hardly let them enter the house and leave it later without a hug!
– Have you ever had a secret admirer? Well, if the article in Sul!Sul! magazine was anything to go by, I have several. Which is… odd.
– Have you ever broken your own heart? I have come perilously close to it, yes.
SIX CHOICES
– Love or lust? Oh! One moment. Mortimer furnished me with… a… meme? Yes, a meme. I think it would be perfect for the answer to this. Let me just find it…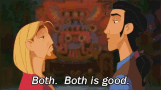 – Lemonade or iced tea? Lemonade is too sweet. As to iced tea… why would one bother to chill tea? It is perfectly good when hot. Sometimes I really don't understand mortals…
– Cats or Dogs? I adore dogs for their undying and unconditional devotion, but as a witch I have a slight preference toward felines. I have had several familiars in my lifetime.
– A few best friends or many regular friends? A few best friends. I am not one of those 'friend collectors' that one sees on social media.
– Wild night out or romantic night in? Oh, romantic night in. Always.
– Day or night? Hmm, probably the night. If I'm in the Veil, then always the night, with a full moon and the trees surrounding me. Witches and moonlight, you know… *winks*
FIVE HAVE YOU EVERS
– Been caught sneaking out? No, not even when I was a teenager. I didn't dare to try it, since a beating so bad that I could not sit for a week would likely have been my punishment.
– Fallen down/up the stairs? I'm afraid I do not possess the level of clumsiness to do such a thing.
– Wanted something/someone so badly it hurt? The first time I laid eyes on Gunther, yes.
– Wanted to disappear? Many times, in my youth. These days I can manage that quite easily, though.
FOUR PREFERENCES
– Smile or eyes? Must I choose? *sigh* If it's Gunther then I simply cannot. Both pull me in equally. I love to make him smile, and since his smile reaches his eyes then you will understand why I cannot choose!
– Shorter or Taller? I am three inches taller than Gunther, but since he likes to feel considerably shorter I sometimes give him the illusion of it. It makes him feel small and safe.
– Intelligence or Attraction? Again, with the difficult choices! However, I will choose intelligence, since I find that attractive.
– Hook-up or Relationship? I have tried the former, but will always choose the latter.
FAMILY
– Do you and your family get along? My family of years past? Yes, my mother and I got along wonderfully. I never knew my father, and… well, the less said about William Black the better, I think. My current family of Gunther, Mortimer, and Esther? Of course; we get along nicely.
– Would you say you have a "messed up life"? In truth? Slightly untidy at times maybe, but messed up? No.
– Have you ever run away from home? Yes, in my nineteenth year, after… I dealt with William Black.
– Have you ever gotten kicked out? No, my mother would never have done such a thing.
FRIENDS
– Do you secretly hate one of your friends? They would not be a friend if I hated them. In short, no.
– Do you consider all of your friends good friends? Since I am select in whom I call 'friend' then yes.
– Who is your best friend? Elsanine.
– Who knows everything about you? Again, Elsanine. He is the closest thing that I have to a brother. He has seen (and mended) my mind too many times to recall, and I trust him implicitly.